Roasted Eggplant, Cauliflower, and Mint with Feta
I have taken one of my old favorites and put a new spin on it for this summer. Eggplant on its own is an amazingly healthy vegetable. Often nightshades get a bad wrap but it is important to add them to our diets for the amazing health benefits.
Eggplant is high is fiber, vitamin C, B-6, potassium and much more. It is said to decrease the risk of obesity, diabetes and heart disease while also promoting increased energy, a healthy complexion and healthy hair!!!
Nothing I love more then some food that will keep me slim and my hair shining!!!!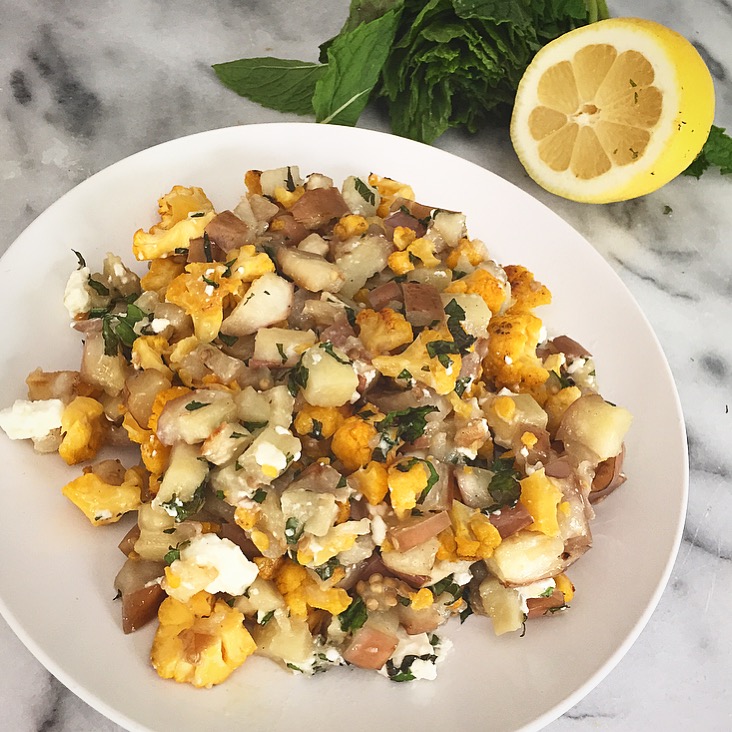 Roasted Eggplant, Cauliflower and Mint with Feta
Ingredients:
1 large eggplant, cubed

2 mini cauliflower (from farmers market) or half of a large, chopped

2 garlic cloves, chopped

1/4 cup feta cheese

1 lemon, juice

1/4 cup loosely packed mint leaves

salt and pepper to taste

2 T olive oil
Instructions:
Preheat oven to 475. Place cubed eggplant, cauliflower and garlic in a bowl and toss with olive oil salt and pepper. Place on a lined baking sheet and place in oven. Cook for 15 minutes and then toss to prevent sticking or burning on one side. Return to oven and cook another 10-15 minutes until vegetables soften.
Remove vegetables from the oven and place in a bowl. Add feta cheese, lemon and mint. Mix and serve. Enjoy this dish warm or prepare ahead for a cool dish.
Enjoy!
xo,
Lauren Courtney