Crunchy Thai Salad
If there is anything you know about me it's that I LOVE SALADS!!!! The beauty of salads is that there is no right or wrong way to make them, they can have as few or as many ingredients as you like. This one is chock full of fix-insand a new favorite. From the crunchy vegetables to the peanut buttery sauce this is sure to be a hit in your house. Just be sure to make enough for leftovers, trust me you will want them.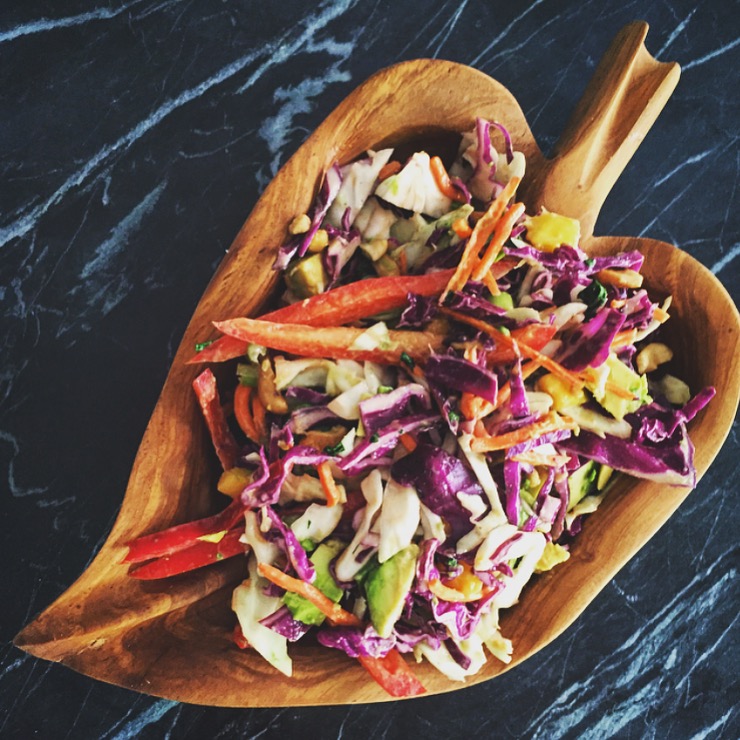 Salad Ingredients:
1 cup shredded purple cabbage

1/2 cup shredded green cabbage

1 avocado, diced

1 mango, peeled, pitted and diced

1 (large) carrot, julienned or shredded

1 red pepper, cored and julienned

1/2 cup roughly chopped fresh cilantro leaves

1/4 cup chopped scallions

1/4 cup chopped cashews
Dressing Ingredients:
1/4 cup natural peanut butter

2 tablespoons hot water

1 tablespoon rice wine vinegar

1 tablespoons soy sauce

1 tablespoons honey

1/4 teaspoon sesame oil

juice of 1 lime

pinch of red pepper flakes
Instructions:
In a large bowl toss all salad ingredients until well combined.
Whisk all dressing ingredients together until combined. If the dressing is too thick, add hot water a teaspoon at a time until it reaches the consistency you desire. Drizzle dressing over salad toss to combine, and serve.
Try this salad topped with some grilled shrimp or shredded chicken for an added protein boost.
xo,
Lauren Courtney