Chopped Salad with Calamari
When looking for a quick recipe with lots of flavors this is one I turn to quite often for myself and for guests (this salad is my mother's favorite!
Greek salads are one of my favorites but sometimes I want to get to the good stuff and eat all the juicy crunchy bites of tomatoes, cucumber and pepper. So with this salad I skip the lettuce and go for a straight chopped vegetable salad loaded with herbs and topped with feta and calamari.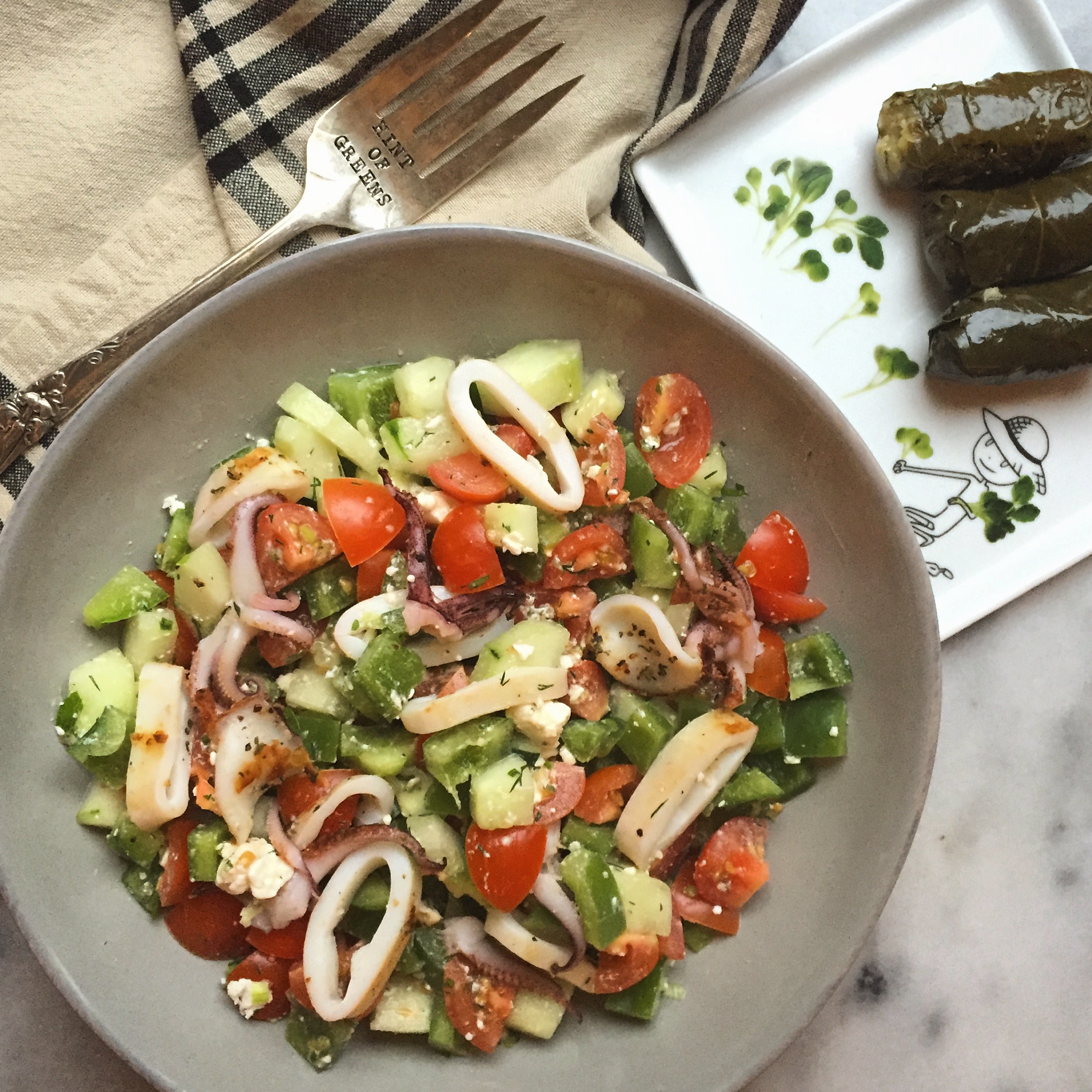 Chopped Salad with Calamari
Serving Size - 2-4
Ingredients:
1/3 lb calamari heads and bodies

1 pint cherry tomatoes, halved

1 cucumber, peeled,seeded and chopped

1 green bell pepper, chopped

1 scallion, green and white part chopped

1 T dill, chopped

1 T parsley, chopped

1/8 cup feta cheese

salt and pepper

greek seasoning (optional)
Instructions:
CALAMARI:
Place a pan (grill pan optional) over high heat and let it heat up. While it is heating up pat dry calamari and season with salt and pepper or greek seasoning if available. Add 1 T EVOO to the pan (unless using nonstick, I use a scan pan and skip the oil).Place calamari in the pan (you should hear a sear) and let cook on each side 3-4 minutes until cooked through. Remove from heat, once cool slice calamari into rings.
SALAD :
In a large bowl add halved tomatoes, chopped cucumber, pepper, fresh herbs and feta cheese and toss until mixed well. Place salad in bowls top with calamari and serve.
I add a drizzle of fresh lemon juice to this salad, balsamic or red wine vinegar also make a great addition.
Enjoy!!
xo,
Lauren Courtney