Beet Tartare
When preparing my menu for this past weekends Feast for the Senses with Big Space NYCI wanted to come up with dishes that would really touch on using your senses. With this particular dish I wanted to create something that looked familiar but was totally different and unexpected.
We see beef tartare on menus everywhere, but what about beet? As a non meat eater and vegetable lover I wanted to create something that would really challenge the way people view beets. So often I hear the word EWWWW before the word beets. Often people say they were force fed them as a kid, or they just never taste good so I really wanted to prove people wrong with this dish.
After I served this course I received much praise, three people personally told me when they saw the menu they were put off by this dish but remained open-minded and they were so glad they did! With that said I am going to share this recipe today because the guests wanted it and I think you may too! Did I mention this dish is super easy to prepare all you need is a knife and a container and and oven should you choose to roast your own beets.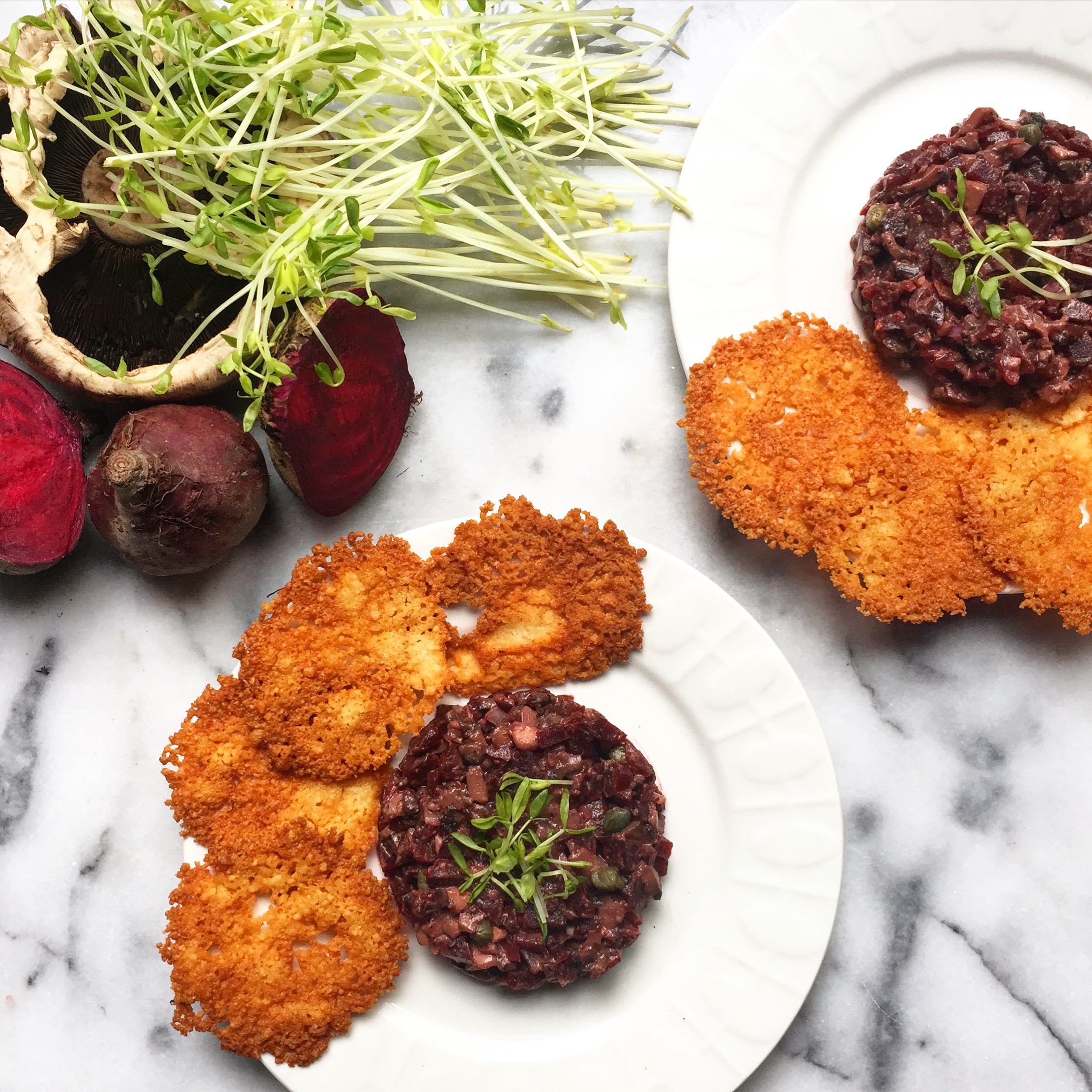 Serving Size - 4
Ingredients:
1 large portobello mushroom cap, diced

1 garlic clove, minced

1 T extra virgin olive oil

1 T white balsamic vinegar or apple cider vinegar

1/4 t oregano

salt and pepper

4 roasted beets, or prepackaged steamed beets, diced

1 T dijon mustard

2 t capers

1 T worcestershire sauce, optional
Instructions:
In a resealable container or sealable bag add the diced mushrooms garlic, oil, vinegar, oregano and salt and pepper to taste. Toss well and let sit for 30 minutes to 1 hour. Meanwhile in a large bowl mix together the diced beets, mustard, capers and worcestershire sauce.
Once the mushrooms are softened and have released a lot of natural liquids add the mushrooms to the beets;try not to add any excess liquid into the beets. Mix well to combine the mushrooms and the beets.
To serve, I like to use the ring of a mason jar container, I place it on a plate and then fill the inside of the ring with the mixture, remove the ring and viola, you have a perfect serving of beet tartare.
Optional - Roast golden beets and puree with a drop of olive oil and salt. You can scoop a drop on top to act as the "yolk" for your tartare.
Delicious and easy meal for you to enjoy this meatless monday.
xo,
Lauren Courtney